Have you ever walked into someones home and thought "can we turn on some lights in this place?" only to find out, they were on?!?!? Well that is exactly what I thought when we walked into our new-old house. YIKES!! Not only was everything brown, low ceilings and lots of walls, they had poor lighting sources. All of that put together screamed gloomy and depressing!!
Yes, lighting is a necessity, but it can also take your home from nice to fan-freaking-tastic if done correctly!!! We added recessed lighting in many places, because, well Jeff thinks like a contractor and thinks that's all you need!! Yes, you need recess lighting, but not exclusively… I think like a designer and know it can be more than just functional - it can be so so fun!! We wanted our space to scream TADA- look at me- remember me!!! And I think it does!!
Proper Lighting is Key!
If you want TADA, you need to think TADA… that is Task, Ambient, Decorative and Accent. I know, I know, super technical, but here is an easy way to think about your lighting decisions…
Where do you want to be able to see?? Duh…

Are you going to be working in an area? How, doing what?

Do you need to draw attention somewhere?? Like a painting or walkway??

Where can you add something fun?!?! You know, jewelry for your ceiling!!
Some lights can check more than one box, for example, in my living room, my big balls provide a decorative feature, ambient lighting and functional lighting any time of day. If you think the way a designer thinks you will say "Ta-Daa" when you are done… and every one else will say Oh My Goodness- look at this place!!!
Now lets take a look at some before and afters of my 1980 something renovation and play a little game of count the lights…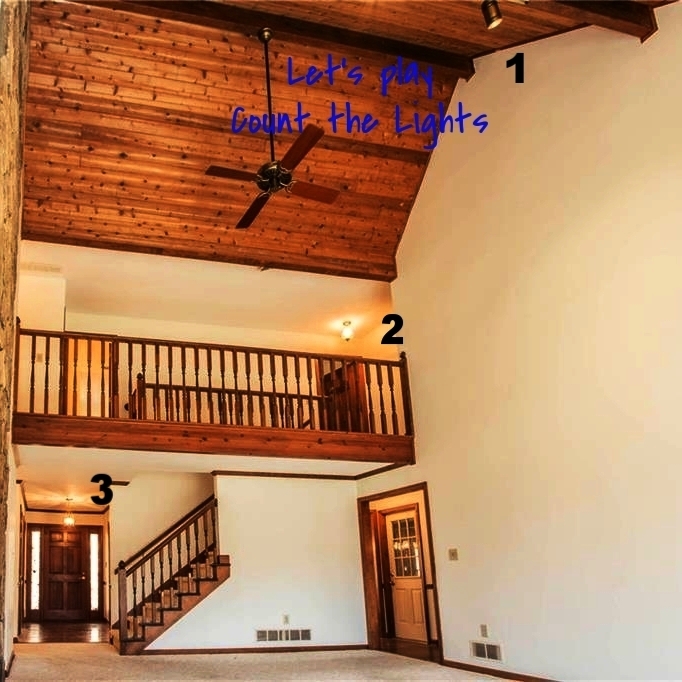 Although this living room has a wall of windows across the back of the room, you would never know it!! Trees were all the way around the house blocking any natural light during the day… and at night, I hope they had several lamps around the living room since the only light was a tiny 2 light, track light way up high!!
Check out a few after photos below to see how we added more lighting sources!!
Two large, decorative chandeliers. I like big lights, I cannot lie!! Both are on one switch and on a dimmer. This provides the perfect lighting no matter the time or mood!!!

We added three recessed, can lights under the cat-walk- where there was zero lighting before. Again, on dimmers so provide perfect lighting regardless of time of day!!

Added recessed "accent" lighting in the built-in cubbies. I love these more than anything!! Make the perfect "night light" for our little night-time wandered!!

Up on the catwalk, they only had one, yes, one light. We added two recessed lights and two decorative lights. I wanted the decorative lights because, one, I love the look of pendants as you walk down a hallway- AND two, the fact that when sitting in the living room looking up, I needed something fun to look at!!
Now, Check out the Dining Room Lighting!!!
I Love how the Galvanized Fixtures and Rustic Farm House Table and bench (custom made by NLB Furniture) compliment each other so well!!!
A few notes about my lighting selections….
LIVING ROOM LIGHTING:
Large 3' Wire Chandlers are from Currey & Company!! LOVE LOVE LOVE them!! (Little secret, This could be my favorite lighting company!!)

Recessed lighting provided by electrician for under catwalk and in built-in-cubbies
CAT WALK LIGHTING:
Two seeded glass pendant lights on catwalk are from Ballard Design. The original ones I had wanted were on back order for 2 months!! Since Jeff wanted them "yesterday" I went on a hunt only to find the perfect ones at our local Ballard Design Outlet!! Let me tell you, that place never disappoints!!! These were even better than what I had originally sourced for the space!!
DINING ROOM LIGHTING:
The pendant over the table, is also from Currey & Company. They seriously have some great, unique pieces!!

A galvanized basket is hung in the foyer complimenting the fixture over the table oh, so well. I have a second one I will hang as you walk from kitchen into dining room once the door going into the garage is moved.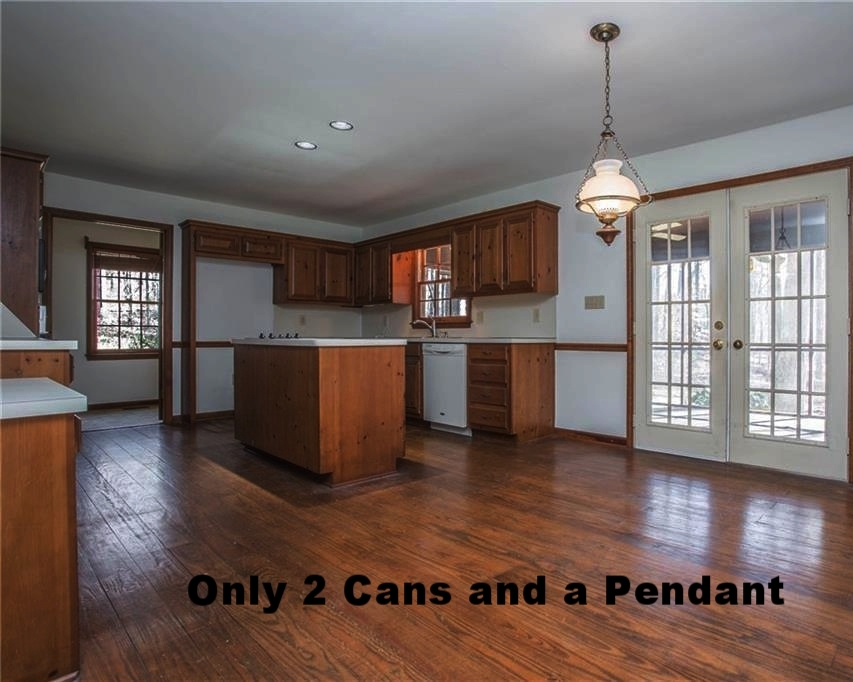 Just know, this is way wrong!! We will talk about kitchen lighting when we discuss the kitchen next time… there is SO much that goes into kitchen planning, it requires its own blog!!
As you can see, I LOVE LIGHTS!! I feel strongly that you need fixtures that make statements!! They can be fun and and change the tone of any space very easily. If you are looking to make a simple change in your home without breaking the bank, adding a different, distinctive lighting fixture could be the way to go!!!
Next time, we will look at the kitchen and the thought process that goes into designing a kitchen just for you!! I know I haven't shown you all of it yet… so make sure to check back in a couple weeks to see the transformation from before!!!
Until then, leave me a comment of which fixture is your favorite!! It can be one of mine, or tell me what fixture in your home is your favorite!! I would love to hear from you!!